The bushfire threat has escalated. So must our response.
Over June and July 2020, Emergency Leaders for Climate Action (ELCA) hosted Australia's first virtual bushfire and climate change summit to coordinate a national response to the Australian climate and bushfire crises. The 2020 National Bushfire and Climate Summit brought together hundreds of participants from across the country, and the world, to share their experiences, and to formulate recommendations to address the worsening risk of devastating bushfires fuelled by climate change. The Australian Bushfire and Climate Plan is the culmination of that effort.
The Australian Bushfire and Climate Plan provides a broad plan and practical ideas for governments, fire and land management agencies and communities to help us mitigate and adapt to worsening fire conditions. The plan's 165 recommendations include many measures that can be implemented right now, to ensure communities are better protected.
The experts agree: We must tackle climate change and worsening extreme weather by urgently phasing out fossil fuels.
Developed with more than 150 experts and affected community members at the National Bushfire and Climate Summit 2020, the Australian Bushfire and Climate Plan will help keep Australians as safe as possible from worsening bushfires, and support communities to build resilience and lead recovery efforts, through:
Response
Better resource fire and land management agencies to manage fuels, and rapidly detect and attack new outbreaks
Add a self-sufficient Australian medium and large aerial firefighting capability to fire services
Better utilise Australian Defence Force support capabilities in emergencies
Readiness
Create an Indigenous-led National Cultural Fire Strategy to complement and inform fuel management by agencies
Increase the affordability and uptake of insurance for properties in disaster prone areas, a key factor in community resilience
Review and update Australian building standards in bushfire-prone areas
Recovery
Set up a national climate disaster fund to meet climate-fuelled disaster costs and build resilience—paid through a fossil fuel producer levy
Better coordinate and resource wildlife recovery efforts
Develop and implement a national climate change, health and well-being strategy
While unprecedented, this tragedy was not unforeseen. For decades climate scientists have warned of an increase in climate-related disasters, including longer and more dangerous bushfire seasons.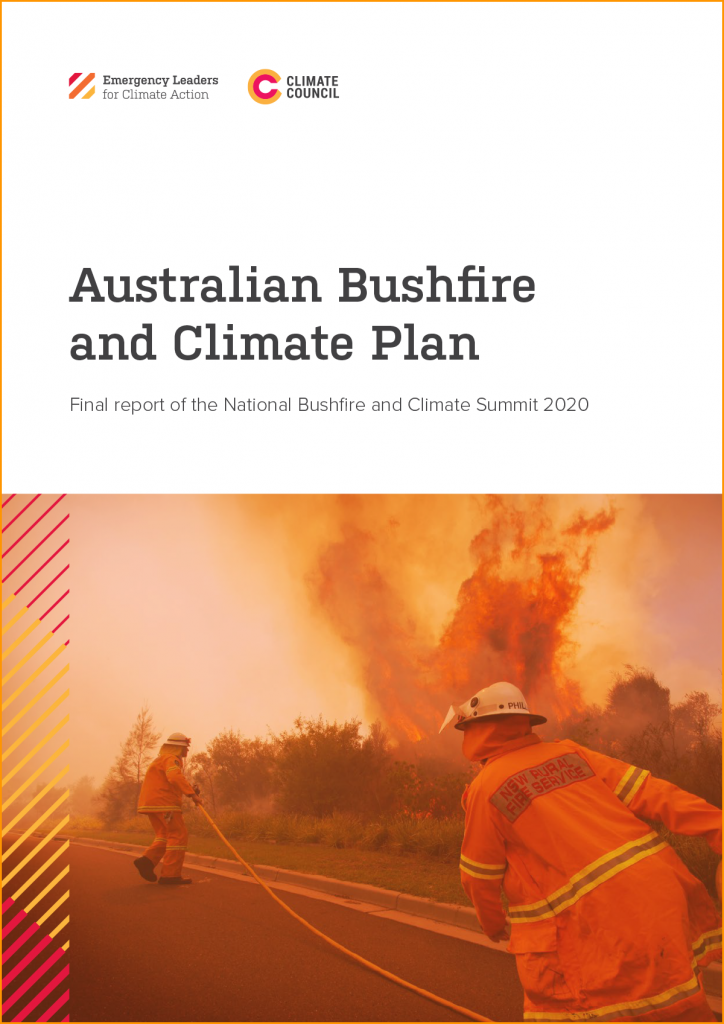 Chip in today to power our call for urgent action
Emergency Leaders for Climate Action (ELCA) is a project supported by the Climate Council. We are independent and funded by donations from people like you. Your donation will ensure our vital work continues.